Seems like a good idea, K!
Don't eat the paper, though.
After
the monster preview last week
, time to head to the headquarters to try the remaining bottles. Remember those 30-or-so bottles, then? That's right, they were not the whole outturn.
KB joins us for his first SMWS experience. The regulars are all there, but in order to not traumatise KB too much on his introduction day, we grab a separate table. We get the cheese plates immediately, so they have loads of time to reach room temperature. KB starts with an omelette, since he has not eaten anything so far (it is almost 15:00).
94.4 24yo 1989/2013 Ode to autumn (52.3%, SMWS Society Single Cask, Refill Bourbon Hogshead, 201b) (me): thirty years of SMWS and this is only the fourth Fettercairn. Considering it is an unfamiliar distillery to me on top of that, I am more than mildly excited! Nose: varnish, hair lacquer, flat soda, polish, then overripe plums and toasted bread. Smelling inside a stainless-steel pot that has just been washed and is still hot (KB). Mouth: pine dust, ginger, apricot. Finish: flat cola, ginger beer, a dash of hair lacquer and pleasant cough syrup (not Actifed, then). Lovely. 8/10



130.1 4yo 2009/2013 Dynamic and Attractive (61.9%, SMWS Society Single Cask, First-fill ex-Bourbon Barrel, 227b) (KB): nose: cologne, perfume, pine dust, some vanilla. Very girly, this. Very high-maintenance too! (i.e. elegant and distinguished... and expensive) Coconut and flowers (tulips?), butter popcorn (JS). Mouth: dry and rough, funnily enough. Lots of coconut, still, but the dryness prevails. Finish: long and warming, full of pepper and horsepowers. Its youth makes it wild -- and that is when you realise it is 62% ABV!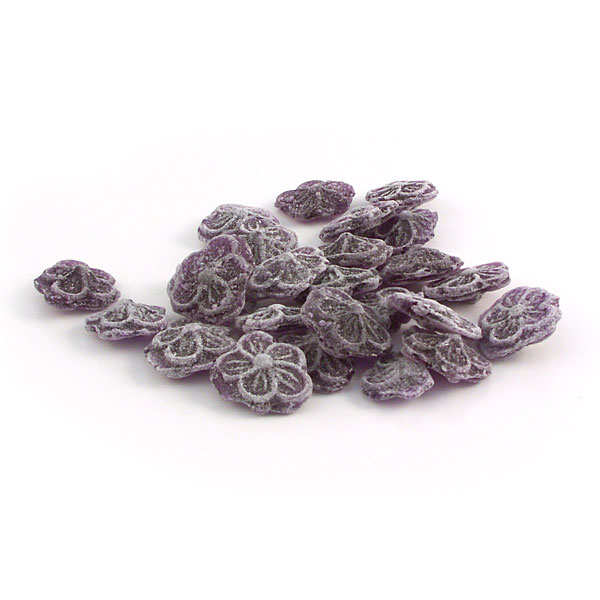 Possibly the only good kind of violets
21.28 37yo 1974 Relaxing in a tropical garden (48.1%, SMWS Society Single Cask, Refill ex-Bourbon Hogshead, 188b) (me): nose: orange (JS), boiled sweets (violets, not Parma), custard (KB, in Kustard mode), flowers. A big sherry influence too, but in a balanced way. Orange blossom and lichen. Mouth: mellow and rich, chocolate éclairs, bakery stuff. Finish: slightly drying, seems Cognac-y and upscale. Distant chocolate emerges, alongside gentle cough syrup. Great dram, but I much preferred 21.27. 8/10
This, but orange. And from the past.
50.53 23yo 1990/2013 Monster, mango and melon (46.4%, SMWS Society Single Cask, Refill ex-Bourbon Barrel, 60b) (KB): nose: delicate, creamy, orange Pelikan stick (fruity glue). Mouth: oh, yeah! Fruity indeed! Unsweetened peach juice, but also tons of green chilli. Finish: a bit sharp, rotten wood, lichen, damp wood. KB relates it to licking an old barrel. Whatever he does with his tongue.
131.1 22yo The sinful side of sexy (57.4%, SMWS Society Single Cask, Bourbon Barrel, 212b) (me): two new distilleries? Woah! Nose: a bit of cured meat (under control), with lots of custard underneath, cut pears and electronics (KB). Opening up the packaging of a brand new video-game console (KB). With water: flowers and (tropical) fruit with some citrus for good measure. Mouth: slightly fizzy, sweet, even soft, with a ginger kick. J even finds maraschino cherries in there. With water, it becomes a bit bland, watered down (pun intended). Finish: bakery, a hint of lemon. This tastes like a grain, actually. Very sparkly, now. First Hanyu as well, yay!


132.1 28yo 1984 Secret moonlit garden dram (59.9%, SMWS Society Single Cask, Refill ex-Sherry Butt, 229b) (KB): you wait forever for a bus, then three show up at the same time! Without surprise, this one sold out in minutes, especially after someone at Boisdale tweeted about it and gave away the distillery name during a private tasting last week. Nose: meaty, farmyardy, fresh horse manure, dry cow dung, fruit cake (KB -- not sure what he puts in his fruit cake...), baking soda, treacle (KB). Mouth: horse manure (KB), stable floor, black pepper (or is it green?), fizzy again. Finish: warming and full of cola (which is very nice, in fact). This one is well made, but confirms that Karuizawa is probably not for me. 7/10
Cameron Bridge's new logo
G4.5 34yo 1979/2013 Sweet and spicy (50.9%, SMWS Society Single Cask,Refill ex-Bourbon Hogshead, 205b) (JS): nose: nostril burning bakery, gingerbread. Mouth: honey-coated caramel cereals (Kellogg's Smacks). Finish: Smacks indeed, with vanilla pudding or custard to boot. Great, straightforward grain. 8/10
35.10139yo 1974/2013 Oh How Joyfully (46.2%, SMWS Society Single Cask, Refill ex-Bourbon Hogshead, 197b) (KB): nose: humidor, cedar wood, undergrowth, dried fern. It further opens up to unleash baked apples (the label gives that away) and brown sugar (KB). Mouth: slightly drying or bitter, orange rinds, Halloween carved turnips (KB -- pumpkin is becoming expensive, innit). Finish: long and satisfying, with turnip notes. Old Glen Morays can be fantastic in an old-man's-whisky kind of way. This one is not so old-man-like, but fantastic all the same. It warms up a true man's soul like a good kung-fu film. 8/10
We talk about karaoke and how some people are so good at it it is depressing. KB notes that if the singer is hot, it at least gives the listener something to look at, which makes it less depressing. :-D
R5.2 To Life, Love and Loot
: nose: my nose hairs have just been instantly incinerated. Woody, with an industrial-cleaner shock. Bonded gravel (KB), industrial glue. Mouth: ginger, anaesthetising solution, melted plastic. Finish: very warming (burning, in fact) but clearly rich in molasses. Still not convinced by rum. KB wanted to try it because of the obscene ABV, but since no one else likes it, I have to finish it (and need a word from my mother to do so). This is not rocket fuel any longer, it is simply illegal. An interesting experience, though.
You read that correctly.