The yearly do where we celebrate dom666's birthday at his. You will notice the themes get more and more specific and demanding.
The suspects: kruuk2, sonicvince, dom666, MQ, JS and myself. adc joins us very late for one dram.
The lineup even seems reasonable
MQ presents: Un Chien dans un Jeu de Quilles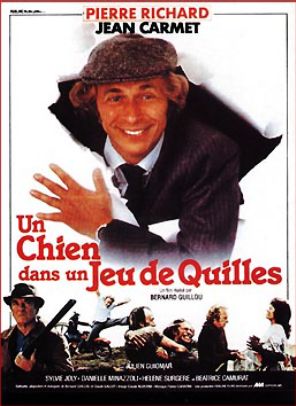 MQ asked his other half what the theme was. She answered French films of the 1980s. He believed her. The two Jura below are the pins ('quilles', in French) and the Arran, which bears the Westie mascot, is the dog ('chien', in French).
Isle of
Jura Superstition (43%, OB, 4145520)
(MQ): the same bottle we tried
last year
. I remember not liking it very much. Nose: butter and caramel, with an animal touch and autumn leaves. Mouth: buttery and creamy. Finish: melting butter, gentle cigar smoke. This is inoffensive, yet it feels much better than last year. 6/10
vs.
Isle of
Jura Prophecy (46%, OB)
(MQ): nose: browned butter, cigar leaves, a hint of varnish (a lot of it, says sonicvince). After ten--fifteen minutes, even some fruit emerges (plums and apricot). Mouth: apricot is now stronger, adding flavour to the creamy, buttery texture. Finish: butter and apricot liqueur. I prefer this one. 7/10
vs.
Isle of Arran Machrie Moor Sixth Edition (46%, OB, b.2015)
(MQ): nose: floral, with a touch of spices (paprika), then lots of lemon. This is supposed to be peaty? It is not. JS reckons it smells of dry lawn. Mouth: lemon-y and vaguely custard-y. Finish: long, warming, comforting, full of lemon. Not overly complex, but enjoyable nonetheless. 7/10
kruuk2 presents: David Lee Glenrothes - Just A Gigolo
Glenrothes Select Reserve (43%, OB, CGR163)
(kruuk2): nose: butter, celeri salt (sonicvince) and -- wait for it -- cooked turnips. Mouth: mellow, it has daffodils, buttermilk and, at third sip, notes of pralines. Finish: discreet, subtle, with touches of butter (!) and daffodil petals. Interesting. I like this better than usual and find it peculiar to try it so soon after the Jura; I do not think any other distillery in Scotland produces anything as buttery as those two. 6/10
Starter is served: tomato and carrot soup. Yum.
Knockando 18yo d.1994 (43%, OB, Sherry Casks)
(sonicvince): the owner cannot remember how this one fits the theme. He hopes it comes back to him, yet it never does. I used to have a version of this (d.1989) that I liked a lot. Nose: lukewarm cocoa, milk chocolate, maybe a hint of coffee. sonicvince finds fleeting potatoes in it (he is drunk, of course), then lemon comes out, with banana (sonicvince). Mouth: it seems thin and evanescent, with honey at first, then lemon. The second sip delivers slightly spicy orange juice. Finish: finally some action, with milk chocolate and the acidity of undiluted lemon juice. It was better in my memory, even if it remains an honest dram. 7/10
Main course is served: dom666's homemade lasagna. It is creamy as can be and, dare I say, the best traditional lasagna I have had.
JS and I present: The Lonely Island featuring Justin Timberlake - Bruichladdick in a Compass Box
JS came up with the first bit and, since I have an open Compass Box bottling, I offered to complete the piece.
Bruichladdich 15yo (43%, OB imported by Rinaldi Importatori, b.1980s)
(JS): nose: unexpected power and unsuspected depth. Perhaps varnish is the first thing to come out, then banana (sonicvince), then juicy fruit, more and more assertive (canary or honeydew melon, pink grapefruit), cheese rind (JS). Mouth: fresh and amazingly lively, with lots of fruit again: melon (cantaloup, this time) and pink grapefruit. Lovely. Finish: explosive, fruity, slightly acidic. This is wonderful. Unanimously liked. 9/10
vs.
Flaming I-ties!
Glasgow Blend (43%, Compass Box Great King Street, b.2014)
(me): nose: barley and smoke, accompanied by an unexpected alcohol heat. It feels more complex than
the first time
-- yay! It becomes coastal after a minute: fake caviar, whelk, salt water, brine. Mouth: buttery honey, then honeyed tea near a fireplace. This is subtle and pleasant, even though it has the bitterness of green tea. Finish: goes down like water, then comes back to haunt you with chimney smoke and toasted barley, still with some honey. 7/10
Cake is served. Instead of chocolate shavings on top, I crumble a speculoos. It works quite well.
dom666 presents: Pit & Rik - La Cicrane et Laphroaigmi
Laphroaig 31yo 1974/2005 (49.7%, OB for LMdW, Sherry Wood Casks, 910b) (dom666)
: yes, the theme connection is a little... stretched. JD peed his trousers when dom666 poured him this
two years ago
. He is not here today, on account of being hungover (haha). More for us, then! Nose: grapefruit, pomelo and tyres, coarse rubber. Mint, petrol. The grapefruit turns bolder and bolder (and rougher and rougher, and tougher and tougher, in other words sucker: there is no other). It smells like a marvellous game in which one pours fruit juice on warm tyres. Mouth: mild, at first, delicate, even. Rubber emerges, backed by grapefruit skins and lemon pips. Well, they might as well be grapefruit pips, really. Finish: a complete funfair. There is bitterness, acidity, rubber, exuberant, exotic fruit -- this is unbelievable. I realise today that I completely missed it the first time dom666 poured this, in 2006. It is a capital dram, only beaten by the likes of Black Bowmore. 10/10
sonicvince presents: Michel Fugain - C'est Laphroaig
Laphroaig Quarter Cask (48%, OB, b. mid-2000s
, 28S46
)
(sonicvince): sonicvince reckons Fugain is comedy enough to justify an entry. We all sort of agree. We have this one with the 31yo, no matter how unfair that might seem. Nose: crusty, toasted bread, malted barley and a bucket of coal. Mouth: hot and bold, with red embers and liquefied chocolate. Finish: long and imposing, with ashes and very dark cocoa. Impressive. It is obviously not in the same league as its sparring partner, yet it is far from ridiculous. No wonder it is so popular; it is so good. 8/10
Transversal view
Woo, new note book!
MQ makes an exit, adc takes his place.
The Old Man of Huy presents: Bart Simpson featuring Michael Jackson - Do Dumbarton
Dumbarton 46yo d.1964 (47.4%, HH The Clan Denny, Refill Hogshead, C#7542)
(me): with the exception of JD, who is not here, the whole group loves grain whisky. Few have had this distillery, though. I am thrilled to right that wrong. And also miffed to have misread the age statement -- I thought it was 47. Nose: custard-y porridge, sage on sourdough. Pâtes de fruits (sugar-sprinkled, jelly-textured, fruity treats), ginger bread. As time goes by, soft tyre shows up, dried dates, prunes. adc reckons it smells like a train platform, waiting for a Southbound train coming from the North. Water gives away Virginia tobacco. Mouth: drying, stripping, with notes of bitter tea. Water makes it more acidic, with lime juice, thyme and salted caramel butter (adc). Finish: green-tea bitterness, sourdough and other bakery stuff. Not the easiest dram, but a cracking old grain, really. 8/10
Dick in a bottle
Good tasting, good company, amazing food. What more could one wish for?
Good thing we don't buy Laphroaig based on their use of apostrophe's...